Kang Le Li (康樂里) has a long history, and with the help of our fellow administrators and volunteers, we are now a fully established community centre. In recent years, the Taiwanese government has been very supportive with community development projects, and this has allowed us to push ourselves further in building a better environment and future for our residents.
[Places to visit]

Kang Lang Station Pushcart Train
Kang Lang station has officially reopened after all the hard work from our community! It brought back memories from the old times during Japanese ruling where villagers had to push ocean production from the port all the way into the city. Unfortunately due to the war, this is the only stretch of the tracks remaining.
We have successfully revamped the area and now visitors are able to enjoy a cup of coffee during the cold winter, or a popsicle underneath the sun during summer. Other than that, feel free to bring your friends and family along and take a ride on the train (manual labour not provided).
Bullet Holes Walls and Military Fortification
Some remnants of WWII are still very well visible in Kang Lang village. The bullet holes on the walls and the fortification are not things that you can just walk past unnoticeable. These places allow the unfortunate residents during WWII to remember the pain of war but at the same time provide the younger generation to learn and embrace peace.

Bullet holes that pierced through the outer layer of the walls
Underground military fortification - tunnels towards local housing, other military fortifications, or Hsinchu Airport.
Mini fort - now children's favourite place for fun!
F104 Star Fighter Playground
As our village is located very close to the military air force base, we were very lucky to have been gifted a used F104 Star Fighter plane at our local play ground situated next to our community centre. It is very popular amongst people of all ages, particularly with the children!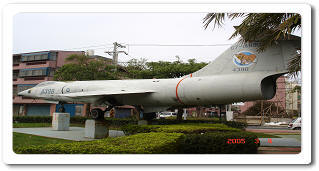 Used F104 Star Fighter
View of the park
Old Well
During the earth quake on the 21st of September 1999, most places had serious water shortage. Thanks to this well that is always full no matter the season, our lucky villagers did not have to go through the pain of having no fresh water supply. Currently the well is mainly for farm use by the villagers.
[Others]

As we are located very close to the port, there are many places around Kang Lang village that visitors can spend their time on. There are morning markets during the weekends near the port where people can enjoy local food and crafts production. If you are into exercising, rent a bike and cycle on our designated bicycle path that runs for 17km. Time yourself and you may be lucky enough to catch the beautiful sunset from our Santorini inspired tourist information centre! Activities are suitable for singles, couples, and also families.
[How to get here?]
For direction please refer to map below or search for 康榔 on Google Maps (Section 3 Dongda Rd). If you are coming from Hsinchu station, take bus number 15 in front of Sogo Mall and you are able to get to Kang Lang village.
If you wish to make any enquiries in English, please feel free to email to aivy@kawasetravels.com. For Mandarin speakers, contact our office at 0920111-593 during working hours.